Certified Instructors
A Letter From Monty, Dean of Students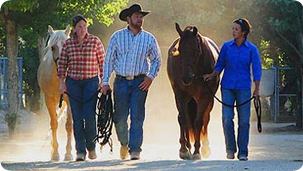 I am proud to introduce you to our team of Monty Roberts Certified Instructors. This talented group of people have been handpicked from around the globe to further my quest to leave the world a better place than I found it for horses and for people, too.
To become a Certified Instructor requires dedication and passion, an open mind and a thirst for knowledge. These instructors are at the forefront of the revolution in horse training today and will be in the years to come. If your country is not represented here, we hope to train someone soon for your area – maybe you!
Learning is an ever-changing and never-ending process, and my instructors return to Flag Is Up Farms whenever possible, both to learn new developments in this unique method and to help guide the future direction of Join-Up® International.
I have placed my utmost faith in these instructors to continue my work when I am no longer able. With this in mind I will leave with the knowledge that many students will follow me and bring my work to the world in the decades to come.
I hope you have great success in your search for a better knowledge of horses through force-free communication, and know that my Instructors will be a valuable tool. Please contact them to discuss the specific courses and instruction they provide.

Ann Lindberg
Sweden
Ann started her studies at the Monty Roberts International Learning Center in 2002 and received her certification in 2006. Ann started her career with horses at a riding school and continued her education with show jumping and therapeutic rehabilitation. Over the years Ann has worked with a variety of horses in USA, Spain, France and Scandinavia – from mustangs and tourism riding to show-jumpers and racehorses. Between 2005-2013 Ann arranged and promoted Monty Roberts demonstrations in Sweden and has been a part of Monty's team during demonstrations throughout the years in both Scandinavia and Europe. Since 2006, Ann has arranged Join-Up clinics and Introductory Courses of Horsemanship in Sweden. Currently she is studying behavioral sciences hoping to research applications of Monty's Join-Up® concepts with horses and humans.